Who's Writing About Us
"We wanted to share our favorite features from 2006. These products made us say wow and deserve a second look". Editors 2006 Pick. Tottrendsweekly.com
As seen in Redbook's August 2006 "Win It" page
Marie Ricci Bunny Clock in BH&G's Kids' Rooms(Summer 06)
Featured in Tot Trends Weekly Spring 2006
New York Daily News(May 25, 2006) Marie Ricci Collection Clocks were featured in Felissa Benjamin's "In the Know" section! Click the image to read what the review.
Marie Ricci Collection accent plaques were in the Spring 2004 issue of Kid's Rooms.
MORE PRESS
Our Monogram Plaque was seen on the Oprah Winfrey Show in a nursery designed by Wendy Bellissimo for a husband who wanted to surprise his wife
The letter "T" is shown above the bassinet. Wendy chose distressed olive with a white bow. October 30, 2003. Living Their Passions from the "Million Dollar Challenge"
Marie Ricci Collection in the 2006 Newport Designer Showhouse
Featured in the 2006 Florida Orchestra Home in Tampa
Marie Ricci Collection featured on Tampa's News Channel 8 Gayle Guyardo's "Baby on the Way" on Oct 19, 2005.
Featured by
 Magazine "Marie Ricci is my favorite garden art designer right now. Elegant, classical, understated — this is the most versatile and useful line of garden accessories I've found. I have several pieces in my own garden." Steve Lorton Northwest Bureau Chief Sunset Magazine
Featured in ePregnancy (November 2004)
Celebrity Clients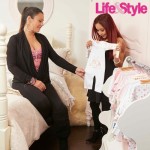 Marie Ricci Round Vine Mirror as seen in Life & Style Magazine. Shown in background at the Bellini NY Boutique.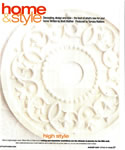 Home & Style Magazine referred to Marie's line of ceiling medallions as the "Ultimate in Jewelry for the Fifth Wall".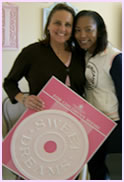 Angela Bassett - 2 monogram plaques and a clock
Holly Robinson Peete - Laugh, Play, Sing, Dance clock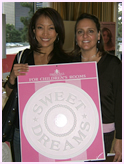 Carrie Ann Inaba of Dancing with the Stars ordered a chandelier medallion

Dave Foley - Pale Lilac Chandelier Medallion for his daughter
Kimberly Elise - Laugh, Play, Sing, Dance Ceiling Medallion
Louis Lombardi (TV show "24") & fiancee, Mandy -2 letter plaques and a Sweet Dreams clock