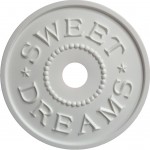 DIY Sweet Dreams Ceiling Medallion
Baby Shower Gift, Marie Ricci's DIY Sweet Dreams Ceiling Medallion
QUICK SHIP within 3 Days for $34.95!!
Designer product at an affordable price!!!
Due to the popular demand, we have been able to mass produce our most popular design at a more affordable price.
Cast in polypropylene, NO PVC, from Marie's hand-carved original.
Prime and Paint yourself.
Print your easy DIY 4 step painting instructions on our home page, next to our About Us page.
Installation and painting instructions included.
18″ diameter diameter with 3″ opening for wires.
Accepts 6″ max canopy.
Weight 1.5 lbs
All Marie Ricci products are proudly Made in the USA.
QUICK SHIP 3 Days!!