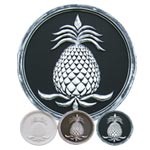 Large Pineapple Plaques- 24″
Pineapple Garden Plaque 24″ cast in lightweight resin.
Our 24″ by 2″ Pineapple Plaques are a fabulous way to decorate your living space.
You or your home builder or landscape architect can incorporate them into your home, remodeling project or garden for a welcoming focal point at your entry, in the foyer, or on a outdoor patio or garden gate – anywhere you want to add architectural interest. Suitable for indoors or outdoor.
Hand painted in your choice of solid white, vintage black or vintage brown.
Single Hook Mount.
Actual Product Weight 7 lbs Shipped within 2-3 weeks.
Available in the following colors :White, Vintage Brown or Vintage Black $324.99