Please enjoy this easy to use tutorial on How to Paint Ceiling Medallions. This tutorial can also be used for many other resin and plaster handmade originals which can be found on mariericci.com. So grab your paint brush, latex paint and get your favorite ceiling medallion, chandelier medallion, wall plaque or letter plaque and let us create your home décor masterpiece!! These instructions are for products ordered in solid white finish. DIY Sweet Dreams Ceiling Medallion must be primed first, then follow these instructions.
Below are instructions on how to hand paint a Marie Ricci Ceiling Medallion
1. Start with latex paint in a eggshell finish.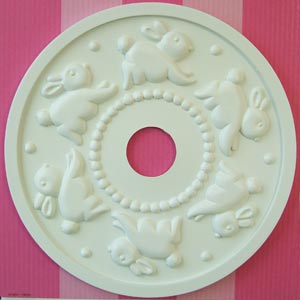 2. Have a damp rag ready to remove paint.
3. Using a 2 1/2″ nylon brush apply a generous amount of paint to cover the entire ceiling medallion. Move quickly, do not allow the paint to dry.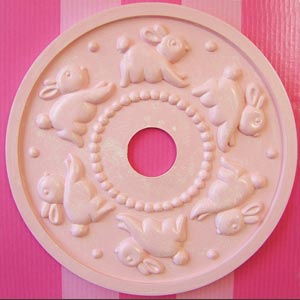 4. While paint is wet, wrap the damp rag around your hand.
5. Using the tips of your fingers, lightly remove the paint around the inner and outer border and all the high points, exposing the white below.
6. Repeat this process continually moving to a clean section on the rag. This will give your ceiling medallion the vintage or shabby chic look.
7. Once paint has dried, use a 1/4″ nylon brush and paint the background of the ceiling medallion.
8. Repeat this process if necessary to achieve good coverage.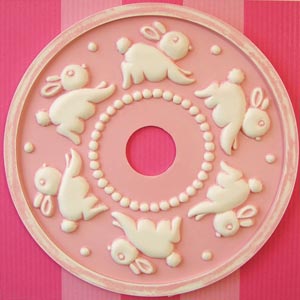 Here are the tools you will need to hand paint a Marie Ricci Ceiling Medallion, chandelier medallion or monogram letter plaque:
Ceiling Medallions, Chandelier Medallion or Letter Plaque
Latex Paint ( eggshell finish )
2 1/2″ nylon brush ( Lowes or Home Depot )
Damp rag
1/4″ nylon flat brush ( American Painter #3 available at Michaels)