Ceiling Medallion and Chandelier don't have to Match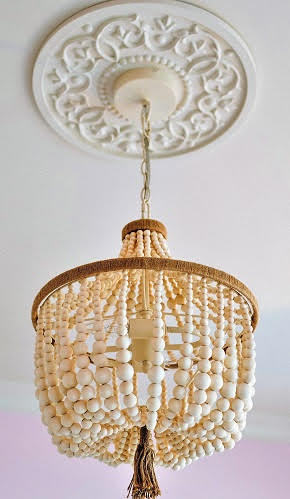 Mix and Match, is how this California customer decorated his daughters nursery by using Cream Colored Beaded Chandelier paired with a White Marie Ricci, Round Vine Ceiling Medallion.
Note the pale pink walls in this adorable nursery. The ceiling medallion doesn't have to match the canopy, as shown in this photo courtesy of our customer. The room is tied together with a wooden changing table and crib and wooden accents. Clearly this customer knows how to decorate! Thank you for sharing.
$159.99 / 18″ diameter – 3″ opening for wires – accepts 6″ max canopy.
$189.99 / 22″ diameter – 3.75″ opening for wires – accepts 7″ max canopy.
Cast in lightweight resin from Marie's hand carved original.
Shipping is included and ships within two weeks.
Send us one color of your custom paint and we'll paint your medallion for a truly custom, one of a kind ceiling medallion.